Engineering Services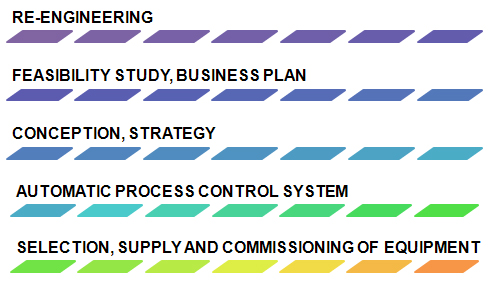 Re-engineering projects aimed at technical and economic optimization and efficiency improvement of:
Production processes.
Management and administrative processes.
Organizational processes.
Working-out of feasibility study, business plan, conception or strategy consists of 4 main stages:
Definition and formalization of goal and tasks.
Definition of major quantitative, qualitative and economic indicators.
Gathering and analyzing information.
Presentation of results.
We are ready to:
Develop and make presentation of feasibility study.
Develop several variants of business plan of investment project with the use of various technical and technological solutions.
Develop business plan, conception or project strategy on the basis of agreed technical and technological solutions.
Automatic process control system allows to:
Ensure high technical and economic indicators of work process.
Ensure high level of information availability.
Reduce material and labor costs.
Arrange automatic protection of equipment.
Prevent accidents and emergencies.
Improve environmental safety of production.
Our Company has a long-term business partnership with manufacturers and suppliers of metallurgical, foundry and machine-building equipment.
Experienced logistics specialists work out individual logistics solutions on selection, supply and commissioning of main and auxiliary equipment and facilities for metallurgical, foundry machine-building productions.